Hi everyone,
Here's what we've got in this month's newsletter:
 July schedule
Q&A with Mysore Phoenix practitioners
Practice tip
Introduction to Mysore practice?
July schedule
Here's the scoop. Note that brunch on Sunday, July 14th, will be at Lux Central.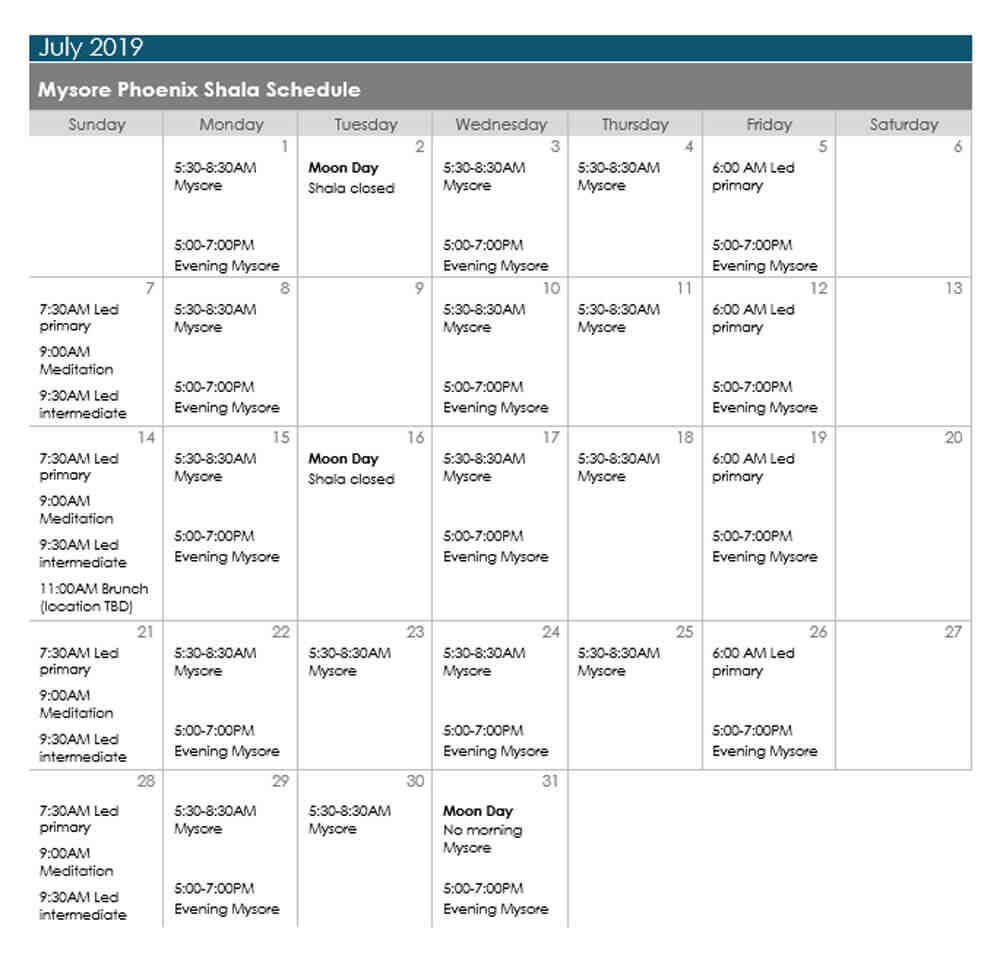 Q&A with Mysore Phoenix practitioners
I asked some of the current Mysore Phoenix practitioners to respond to a couple of common questions, and here's what they had to say:
Q1. Was it scary to go to Mysore Phoenix the first time?
A: Not at all!! (Karen W)
A: It may be intimidating to walk thru the door, but once inside you discover it is open and liberating. It is very much about your own journey; where ever that may currently be. (Eileen)
A: Not in the slightest! Karen has a warm smile and is very approachable and kind. The facility is clean, simple, comfortable temperature and organized. (Kimberly)
A: A little bit, but no more so than beginning any other practice or pursuit in life. (Dion)
Q2. Why do you like Mysore-style practice?
A: I love the idea of baby steps. Not progressing until you've become good enough to try what's next. I feel it helps keep the potential of injury at a minimum. (Kimberly)
A: Right now I'm done in about 20 minutes which makes it easier to fit practice into more days. I'm enjoying going at my own pace through the poses too, rather than being rushed and feeling the need to keep up with a group. (Karen W)
A: The Mysore approach is perfect for me in the sense that I can go at my own pace, I'm only given what my body can handle, and it's a 1×1 learning style within a group environment. The best of both worlds! The sequence of poses encompasses every pose I've ever wanted to do and it's all with a teacher who has trained with and been approved to teach from the grandson of the creator of Ashtanga. (Heather)
A: Mysore is the only style I have practiced. It spoke to me and hooked me immediately and I have not looked back. (Eileen)
A: You slowly earn strength, stamina, and knowledge of each pose. You get personal attention and instruction. You only do what you can do and you add on and you grow – physically, emotionally, mentally – which builds confidence and impacts your life. By doing the same poses over and over each day you can truly and easily track your progress. When you know what pose is coming and how long to hold it you can really go internally and create this beautiful moving meditation. BECAUSE IT'S THE BEST, DUH! (Krystle)
A: Ashtanga is a paced and structured system, each movement building off the previous. The further you go in the practice, the more obvious and compelling this becomes. (Dion)
Practice tip
What's the most important part of practice, when you're first starting out (meaning the first two or three years)? Consistency!
Establishing a regular practice is the first order of business. And while Ashtanga was designed to be a six day a week practice, most people do not start out doing six days per week. Sure, if you have a strong drive for routine, you can absolutely do a six day a week Mysore practice right from the get-go. But many people start with 3 or 4 days per week.
Why do I ask that new practitioners commit to a month of practice, and agree to come in at least 3 days per week? Well, that's how you establish a habit. Focus on one simple thing – getting to practice on the 3 (or however many) days you're committed to — and you're on your way.
New blog post
My newest blog post focuses on how to cultivate true yoga.
Check it out HERE
Introduction to Mysore practice
Sometimes it's nice to have a formal introduction to a new endeavor. If at least six people commit to attending an introductory session to Mysore practice, I'm game to offer a two-hour class on a Saturday afternoon in July.
Class will be suitable for people with no yoga experience at all, people with yoga experience but no Mysore experience, and those with some Mysore experience who need a brush-up.
Ping me if you want to participate. I'm looking at July 13th and July 20th, 2:00-4:00 PM. We'll go with whichever day gets the most votes.